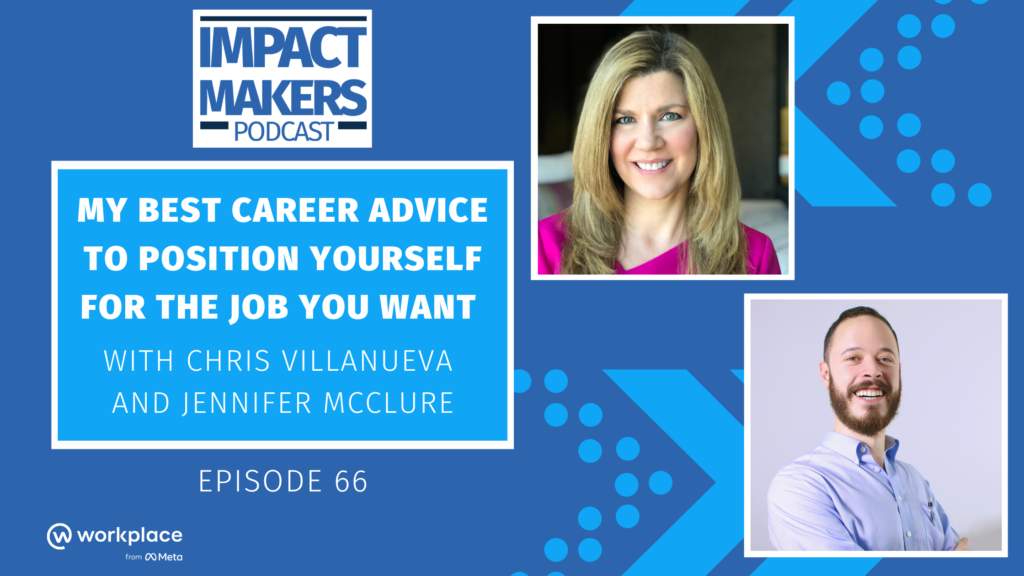 How do you position yourself for the job that you want?
A career change is not easy, whether you feel stuck in you current job or just want to do something different that you enjoy.
As an employee, you've got to figure out how to get noticed to move your career ahead.
However, leaders also need to figure out how to provide a safe space and environment for their people to connect, even remotely.
I recently connected with Chris Villanueva, CEO & Co-Founder of Let's Eat, Grandma, an online resume service that helps professionals rebrand themselves to land interviews for their dream jobs.
He invited me to be a guest on the Career Warrior Podcast, which he hosts, and we had a great chat about networking, relationship building, and how the changing world of work impacts both job seekers, and people leaders.
Chris and his team have graciously allowed me to share it so, sit back, and get ready for the best advice I've got for you to position yourself for the job you want – at least in 2022!
Topics Discussed In This Episode:
My thoughts on the future of work, and what both job seekers and HR leaders should be paying attention to.
The skills that will be most in-demand in the workplace of the future.
How to properly build relationships and network when many people are working remotely and networking less.
How to position yourself for new opportunities when you're interested in making a career change.
The worst things job seekers do with their resumes that annoy HR and hiring managers.
IMPACT MAKERS PODCAST – EPISODE 66
Key Quotes From This Episode:
"It's really hard to establish connections when we are online behind a screen and connecting with people." ~ @Chris Villanueva
"Just because it isn't paid experience doesn't mean it's not valid experience that can end up pushing you to get more interviews." ~ @Chris Villanueva
"You can always do something different." ~ @Jennifer McClure
People & Resources Mentioned In This Episode:
Let's Eat Grandma Career Warrior Podcast
Career Warrior Podcast #274 – The Future of Work for Job Seekers with Jennifer McClure
Let's Eat Grandma | Best Resume Writing Service
The 4-Hour Workweek: Escape 9-5, Live Anywhere, and Join the New Rich by Tim Ferriss
Jab, Jab, Jab, Right Hook: How to Tell Your Story in a Noisy Social World by Gary Vaynerchuk
Julie Turney / HR@Heart Consulting Inc.
Show Sponsor:
This episode of the Impact Makers Podcast is sponsored by Workplace from Meta.
Everybody's talking about the metaverse these days, but Workplace from Meta is different – I mean, the clue's in the name, right?
Workplace is a business communication tool that uses features like instant messaging and video calls to help people share information. Think Facebook, but for your company.
It's part of Meta's vision for the future of work – a future in which your job isn't just something you do, but something you EXPERIENCE. A future in which we'll all feel more present, connected, and productive.
Start your journey into the future of work at workplace.com/future.
Connect with Jennifer:
Send her a message [https://jennifermcclure.net/contact/]
On LinkedIn: http://www.linkedin.com/in/jennifermcclure
On Twitter: https://twitter.com/JenniferMcClure
On Instagram: https://www.instagram.com/jennifer_mcclure/
On Facebook: http://www.facebook.com/JenniferMcClureSpeaker