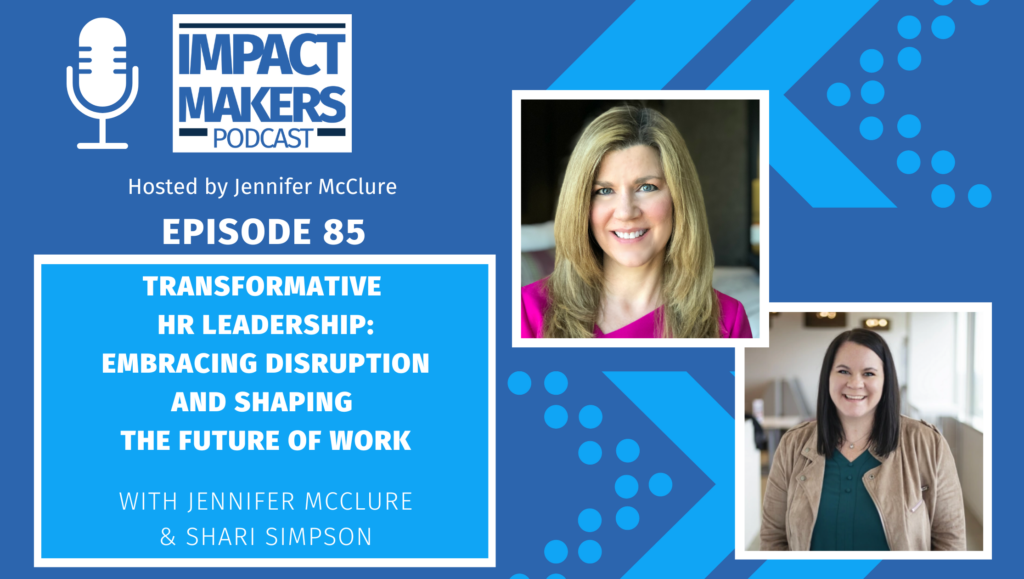 On episode 85 of the Impact Makers podcast, I'm sharing a conversation with you that I had recently with Shari Simpson – Senior Manager of Thought Leadership at Paylocity – on the HR Mixtape podcast, which she hosts.
I asked Shari if I could also share the conversation with the Impact Makers community, because I thought she asked some great questions about the challenges and opportunities that HR leaders are facing in a world where work and employee expectations have changed forever.
We discussed how technology and artificial intelligence impacts HR, as well as how HR can lead in the future of work in the areas of attracting and retaining talent, redefining employee engagement, and connecting employees with meaning and purpose in their work. We also touched on how HR leaders can build their influence, and make a significant impact in their organizations as well as the broader HR community.
I've linked to the episode of the HR Mixtape podcast where this conversation originally appeared below. I encourage you to connect with Shari, and to follow or subscribe to the HR Mixtape podcast so you can listen to more thought-provoking interviews, compliance tips, coffee chats, and the latest HR-related news.
Topics Discussed In Today's Episode:
Current and future challenges confronting HR leaders.
The crucial role of HR in adopting technology impacting the workplace.
The influence of consumer experience on employee satisfaction and competitiveness in the labor market.
Defining employee engagement and strategies for positive impact.
The significance of a learner's mindset for HR leaders and methods to gain beneficial insights.
Guidance for HR leaders on enhancing their influence and contributing to meaningful conversations in their profession, company, and industry.
LISTEN TO IMPACT MAKERS PODCAST – EPISODE 85
Listen on Apple podcasts, Google podcasts or Spotify
People & Resources Mentioned In This Episode:
Shari Simpson – LinkedIn, Twitter, Instagram
HR Mixtape Podcast — HR Evolved: Navigating Challenges and Embracing the Future with Jennifer McClure
PCTY Talks Podcast — Creating Your Personal HR Brand with Jennifer McClure
Re:Thinking with Adam Grant — ChatGPT did NOT title this podcast (w/ Allie Miller & Ethan Mollick)
Impact Makers Podcast — Defining Return on Workforce Investment in the Future of Work with Dr. Alexander Alonso
Redefining Work Podcast with Lars Schmidt
Punk Rock HR Podcast with Laurie Ruettimann
Digital HR Leaders Podcast with David Green
Kris Dunn – The HR Capitalist
Noah Warder – LinkedIn
Tracie Sponenberg – LinkedIn
Julie Turney – LinkedIn