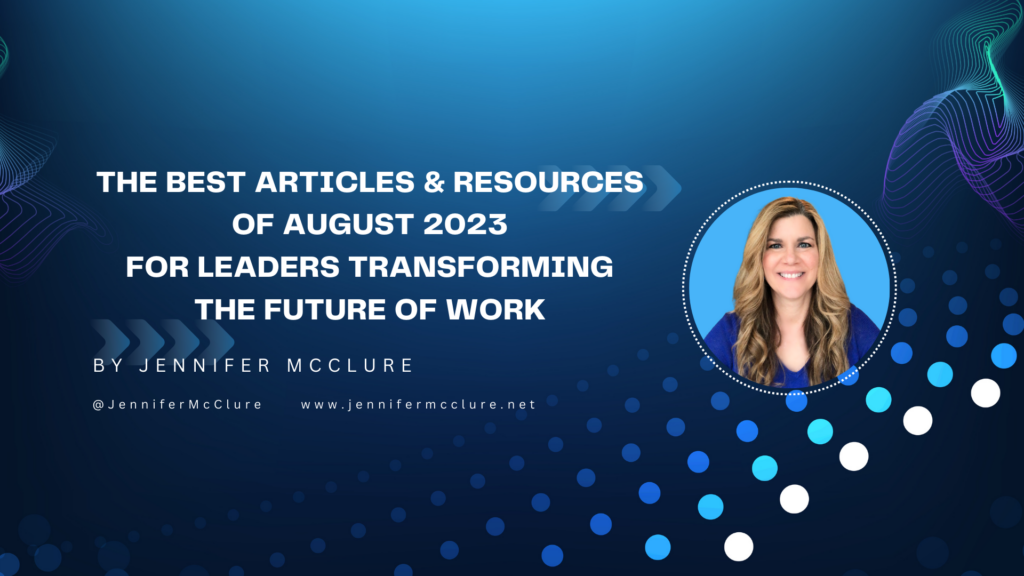 Each week, I send a brief email newsletter to leaders seeking to disrupt and transform the future of work.
In this weekly letter, I share my learnings and experiences from over 3 decades of work as a human resources leader, executive coach, and entrepreneur, along with tools, tips and resources that are personally curated to help leaders establish credibility, communicate confidently, and lead with impact.
If you'd like to receive the weekly Impact Makers email newsletter, you can subscribe HERE.
Following are a few of the best resources that I created, read, reviewed, and shared in the month of August 2023.
HIGH-IMPACT LEADERSHIP:
Great leaders promote a culture of curiosity – they lead with questions, not answers.
✏️ The 50 Most Powerful Questions Smart Leaders Can Ask by Gustavo Razzetti
PERSONAL BRANDING / THOUGHT LEADERSHIP:
Can you answer the question "What do you do?" in one sentence that makes someone want to know more?
✏️ How to Simplify the Way You Talk About Your Work (No Jargon Allowed) by Lee Price
I enjoyed this discussion on how to use writing to connect with your audience and communicate who you are as a thought leader.
🎧 Steal the Show podcast — How to Use Writing as a Thought Leader with Michael Port and Queena B.
PRESENTATIONS & PUBLIC SPEAKING:
To succeed as a professional speaker, you need a plan.
On this podcast, Dan Irvin shares his 4-step prospecting and contact strategy, and the systems he's developed that have turned his speaking business into a well-oiled machine generating over 6-figures a year.
🎧 The Speaker Lab Podcast: The 6 Step System to Book More Paid Speaking Gigs with Dan Irvin, M.A.Ed/Adult Education and Training
In this podcast, popular keynote speaker and New York Times best-selling author Jon Acuff shares his 15-year speaking journey, and the lessons he wishes he had known when he first started.
🎧 Speak Like a Pro: A Crash Course in Public Speaking
DIVERSITY, EQUITY, INCLUSION & BELONGING:
On August 1, 2023, Living Corporate, a media network focused on centering and amplifying Black and brown voices at work launched the Living Corporate Collective, an invite-only virtual space that will empower, educate, and elevate all of its members by facilitating monthly private webinars and sharing resources on the landscape of DEI and HR.
The W.K. Kellogg Foundation (one of the largest philanthropic Foundations in the US) created this toolkit to share their experiences, lessons and recommended tools and resources for implementing racial equity strategies as part of an HR function.
🗄 HR Toolkit for Racial Equity
HUMAN RESOURCES / PEOPLE & CULTURE:
Jennifer Kim's focus is on teaching startups how to hire + grow, and in this post, she shares 3 lines of questioning to help founders or c-suite leaders filter out mediocre and incompetent people leaders from the applicant pool for Head of People jobs.
✏️ 3 interview questions to sniff out Heads of People who can't deliver by Jennifer Kim
Employee engagement levels reached a record high in 2022, but it's also the second year in a row where worker stress reached record levels as well.
🗄 Globally, Employees Are More Engaged — and More Stressed via Gallup
Lots of interesting insights in this report, including the significance of pay and compensation to today's workforce, the importance and impact of flexibility, an increased desire for caring workplace cultures, and the effects of uncertainty about the future.
🗄 People at Work 2023: A Global Workforce View via ADP Research
New research highlights three key times when bringing employees and teams together in person creates lasting connection.
✏️ In the Changing Role of the Office, It's All about Moments That Matter via Microsoft WorkLab
The big brains and researchers at The RBL Group believe that HR functional effectiveness is about creating value for all stakeholders. Through extensive research and practice, they've identified 10 dimensions to create value-based HR, ensuring that HR is not about HR, but about creating value.
✏️ What Makes an Effective HR Function? via The RBL Group
RECRUITING & TALENT ACQUISITION:
Fifty-seven percent of job seekers are already using social media as part of their job search.
I was interviewed to share some tips – as well as key mistakes to avoid – in this article on Dice.com.
✏️ How to Use Social Media to Land a Job in Tech
BOOK OF THE MONTH:
One of the books I recommend to anyone interested in pursuing professional speaking is The Wealthy Speaker. The book covers in detail how to set yourself up for success as a professional speaker, including mindset, positioning, marketing, fees, creating an epic speech, and more.
A third and updated edition was released earlier this year. I've read all three, and always appreciate the refresher, as well as the new topics addressed, because the world (and the business of speaking) is ever-changing.
📕 The Wealthy Speaker 3.0: Your Recipe for Building the Speaking Business of Your Dreams by Jane Atkinson
FROM MY POINT OF VIEW:
Recently, I joined Bill Banham on the HRchat podcast to discuss all things DisruptHR LLC.
We spoke about the unanticipated wild ride that DisruptHR has been on over the last 10 years, and how it continues to grow expand around the world. I also highlight some standout events, some of my favorite DisruptHR Talks, and who my dream speaker would be. (You'll never guess.😉)
🎧 A Decade of Disrupting HR: HRchat Episode 614 with Jennifer McClure
What the heck is a "balcony person"? And why would you want to be one?
As a leader, one of the most meaningful ways that you can make an impact in the lives of those that you lead and serve is to be a balcony person for them.
✏️ How to Lead with Impact: 4 Key Traits of Mentors Who Make a Difference
Are you a lifelong learner? If you want to be a successful leader, the answer has to be yes.
How do you create a customized leadership development plan that will help you become the best leader you can be?
✏️ 6 Resources to Create a Leadership Development Plan to Fuel Continuous Personal Growth and Career Success
In the ever-evolving future of work, it's more important than ever to hire exceptional talent.
But beyond qualifications and experience, how can you discern if a candidate is truly exceptional?
✏️ Hiring for Success: An Interviewer's Guide to Identifying Job Fit and Future Potential
When I'm given the opportunity to speak to an audience – whether from a stage, in front of a camera in my home office, or in a corporate conference room, it's important to remember that being a "good" or "great" speaker isn't about just sharing; it's about resonating. And while every performance may not be a home run, there are certain missteps that I (and you) should avoid.
✏️ How to Deliver a Killer Presentation: Avoid These 5 Common Mistakes
You don't have to be a famous celebrity or invent something that changes how millions of people engage with the world in order to make a difference. Every act of kindness, every word of encouragement, and every moment of connection has a ripple effect that impacts the people you come across every day.
✏️ You Don't Have to Be Perfect to Lead With Impact: 5 Ways to Make a Difference
THE IMPACT MAKERS PODCAST:
Want to discover innovative strategies to attract top talent, enhance HR processes, and redefine employee engagement in the future of work? I've got ideas you…
🎧 Transformative HR Leadership: Embracing Disruption and Shaping the Future of Work with Jennifer McClure and Shari Simpson, SHRM-SCP, MBA, MHRM
Khalilah "KO" Olokunola shares her personal story from the streets, to prison, to a job as the Chief People Officer of a for profit organization with the social mission to unite gang rivals and decrease violence, and now to boardrooms and training rooms around the world equipping leaders to create more impact.
🎧 From the Block to the Boardroom: Impact Architect Khalilah Olokunola Breaks Boundaries in HR
Zachary Nunn – CEO of Living Corporate – shares how he transformed his frustration with performative corporate DE&I efforts into a multimedia diversity, equity, and inclusion network that centers and amplifies Black and brown professionals in the workplace through narrative storytelling.
🎧 Amplifying Black and Brown Voices in the Workplace With Zachary Nunn, Founder of Living Corporate
Noah Warder – Head of People at Guusto shares about building people-centric cultures that provide purpose, well-being, and opportunities for all.
We also discuss the value of simplifying HR, quantifying ROI for people strategies, the importance of trust and transparency in fostering a strong company culture, and leveraging conflict for optimal results.
🎧 Creating People-First Cultures Through Transparency, Trust, and Transformative HR With Noah Warder
Diversity, Equity & Inclusion practitioner, speaker, and podcast host Shahzia Noorally, M.Ed (she/her) discusses challenges and biases that persist in traditional leadership models. We also explore the concept of sponsorship versus mentorship, which can create a space for authentic expression, and amplify not just talent, but also the voices that often go unheard.
🎧 Challenging Traditional HR Paradigms to Create More Inclusive and Equitable Workplaces With Shahzia Noorally
FIND ME AT UPCOMING SPEAKING EVENTS & CONFERENCES:
Fall conference season is gearing up, and I'll be speaking at the following events. I would love to connect IRL if you'll be there too!
9/20/2023 – Edmonton, AB: Jobber Choose Your Impact Day
Superhero Leadership: Accept the Challenge, Push Past Uncertainty & Embrace the New World of Work
9/27/2023 – Dallas, TX: Federal Reserve Bank Minorities in Banking Forum
Defining and Communicating Your Personal Brand to Help Your Career and Your Organization Grow
10/3/2023 – New York, NY: LinkedIn Talent Connect
Transforming Your HR Team to Deliver Maximum Impact in Today's Competitive Environment
10/26/23 – Broadview Heights, OH: Northeast Ohio SHRM
I'll be discussing The Future of HR, along with John Bernatovicz, Tim Sackett, SPHR, SCP, George Sample, MBA, SPHR, and Lauren Rudman, SHRM-SCP, SPHR