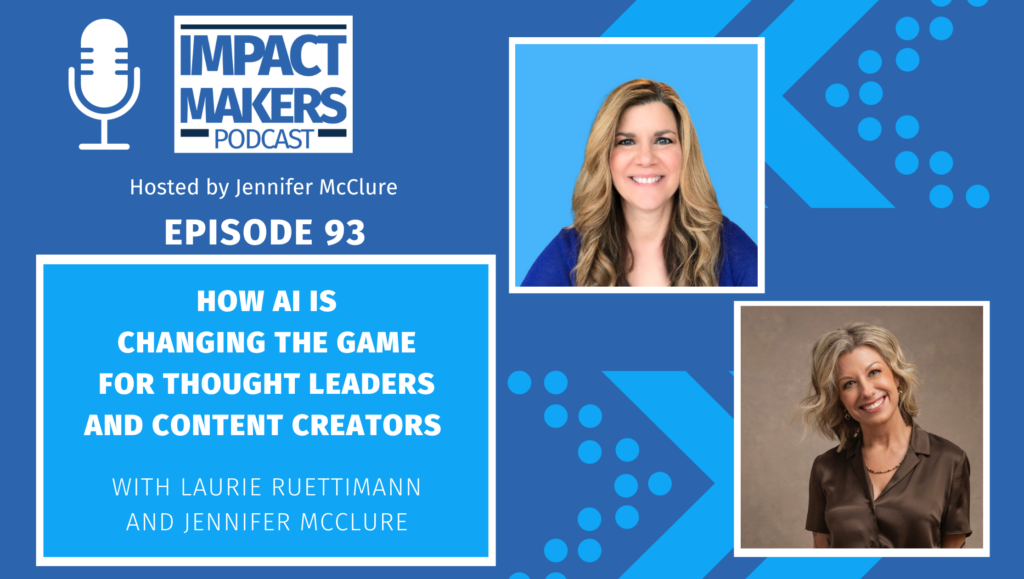 On episode 93 of the Impact Makers podcast, author, speaker and coach Laurie Ruettimann joins me to discuss the topic of how generative AI tools can aid in content creation.
I asked Laurie to join me to chat about how we're using generative AI tools as content creators, and just humans in general, and what's working or not working for us as we try to make peace with our future overlords.
We share our personal experiences with using these tools and how they're saving us precious time, as well as adding immense value to our work, and we unpack the different user types of AI: creators who leverage it for automation and editors who utilize AI to refine existing work.
Laurie and I also explore the potential of AI in personal and professional communication, and the use of generative AI tools for writing emails, newsletters, and even crafting professional messages. Communicating effectively with AI is critical to getting satisfactory results, and the secret lies in writing the right prompts that will yield better results. Don't miss out on the tips and insights we offer on how to get the best results from any AI platform that you choose to work with.
In the latter part of our conversation, we focus on the power of AI in enhancing our creativity and decision-making processes. Laurie and I both talk about how these tools suggest ideas we may not have thought of, and how they can be used without interfering with the creative process. Finally, we share our vision for the future of generative AI tools and how they will continue to shape our lives.
As usual with Laurie, it's a fun and insightful conversation, and I think you'll find it interesting how we're both using AI tools in our content creation processes, including how we use them to save time, and add value to our work.
Topics Discussed In Today's Episode:
Jennifer's experience in expanding ideas and editing content using ChatGPT.
Laurie's use of ChatGPT in content editing and refining — particularly with emails.
Laurie's thoughts on the two types of users of generative AI tools.
The advantages of using AI as an editor or copywriter.
Using AI tools for brainstorming and generating ideas.
Understanding how ChatGPT "learns" and retains information, and whether or not it can be trained to truly mimic a writer's unique voice.
Our thoughts on which generative AI tool is better – ChatGPT or Google Bard?
Why it's important to not over engineer your prompts when using AI tools.
Our thoughts on the balance between human creativity and AI assistance.
LISTEN TO IMPACT MAKERS PODCAST – EPISODE 93
Listen on Apple podcasts, Google podcasts or Spotify
People & Resources Mentioned In This episode:
Laurie Ruettimann – website, LinkedIn, Instagram
Punk Rock HR / Corporate Drinker podcast
Impact Makers podcast episode 036:  The Random Show — Conversations with My BFF Laurie Ruettimann 
Betting on You: How to Put Yourself First and (Finally) Take Control of Your Career by Laurie Ruettimann