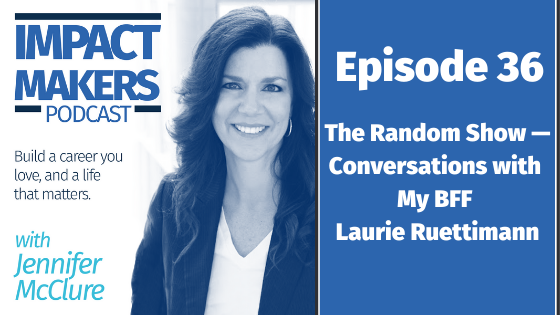 When my BFF, Laurie Ruettimann, called me up and told me about her unplanned, open afternoon and a need for a last-minute podcast guest, I suggested we do a recording together to fill the gap.
Inspired by Tim Ferriss' recurring random conversations on The Tim Ferriss podcast with his friend Kevin Rose, I suggested we do something similar. The resulting conversation was fun, and also ventured into both Laurie and I sharing some of our highs and lows of 2019, as well as what we're excited about and focusing on in 2020.
In addition to being my friend, Laurie is also one of my personal mentors and a frequent travel companion. She's a well-known writer, speaker, and podcaster who helps executives and HR leaders prioritize the employee experience to avoid the collateral damage of a toxic work environment.
In this podcast conversation, we chat about where Laurie is in the process of writing and publishing her first traditionally published book, and then we move on to chatting about our outlooks for the new year, my epiphanies about time management and some of our favorite travel stories. We also discuss burnout and rethinking the way that we view our businesses.
IMPACT MAKERS PODCAST – EPISODE 36
(Email subscribers – click HERE to listen to the podcast.)
Show Highlights:
Laurie's book writing journey, the editing process, and what to expect in the new year and beyond.
Goodreads and Amazon as incredibly important platforms for authors and how Laurie's publishing team is prepping for her book launch later next year.
Some of the places and events I'll be traveling to in 2020.
My epiphanies around time management, which I had while recovering from a horse-riding accident.
What we're excited about for 2020, including doing things a little bit differently in our lives in regards to our physical and mental health.
More Info and Resources:
Impact Makers Episode 2 – The Thriving Contrarian with Laurie Ruettimann
The Tim Ferriss Show podcast: The Random Show — On Fasting, Forest Bathing, How to Say NO, Rebooting the Self, and Much More (#391)
—–
Thanks to King University, who's support makes this podcast possible! King is proud to offer sixteen online degrees with accelerated programs and affordable tuition so you can start a new career faster than ever. You can choose from programs in technology, communication, and business – like an online MBA with six concentrations including human resource management. And because the program is offered fully online, you can earn your degree on your own schedule in as little as 16 months. Visit https://online.king.edu/impactmakers to learn more about the King Difference today.