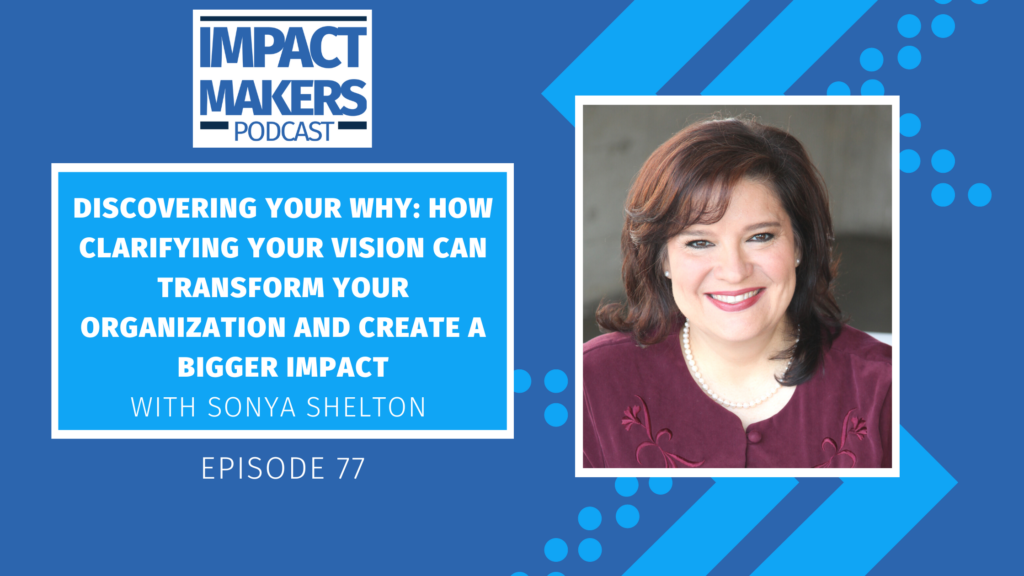 Do you ever wonder what it takes to be a great leader? To create an impact both at work and in life?
Sonya Shelton, Founder of Executive Leadership Consulting, joins me to explore this and discuss the power of discovering your WHY.
Sonya is passionate about partnering with leaders and high achievers to create a clear vision, enabling them to build work environments where employees are fulfilled and really committed to the organization's success.
Her WHY? To contribute to the success of leaders to create a bigger impact.
Sonya's advice is backed by her own experience as an executive, international speaker and consultant, as well as her bestselling book "You're an Executive, But Are You a Leader?" She shares her wealth of knowledge, as well as actionable steps to help leaders craft a compelling vision and develop their leadership skills.
Tune in to this episode to be inspired and learn how to successfully lead your teams and organization into the future.
Topics Discussed In This Episode:
What makes the difference between an executive and a leader
Defining success at your company: The importance of clarifying your vision
How organizations can create a strong vision in an ever-changing world, where the future is unknown
Practical steps you can take to discover your true WHY
How discovering your WHY contributes to effective leadership
How strategy and culture work together to create success for a company
What are the reasons for the increase in employees experiencing stress and burnout at work
Red Thread Leadership: The "5 P" formula to grow as fast as your ambition
What leaders can do to create the biggest impact right now
IMPACT MAKERS PODCAST – EPISODE 77
People & Resources Mentioned In This Episode:
Key Quotes From This Episode:
"Organizations make the mistake of thinking that culture is just the values or the benefits the employees get or how they treat each other. And those are all very important things. But if your processes and your structure, and how you make decisions, and who gets hired, and who gets promoted and why, aren't all tied into that – then there's a disconnect in the culture." ~ @Sonya Shelton
"Things are changing so fast, there's so much uncertainty right now with what's happening…I think that's leading into a lot of stress at work. And so that's why we talk about purpose as being so important. When you know why you're doing what you're doing, and you have clarity about the strategy and where you're going and that vision, then it's easier to navigate those rough waters." ~ @Sonya Shelton
Working hard for something we don't care about is called stress; working hard for something we love is called passion. ~ @ Simon Sinek
Connect with Jennifer:
Send her a message [https://jennifermcclure.net/contact/]
On LinkedIn: http://www.linkedin.com/in/jennifermcclure
On Twitter: https://twitter.com/JenniferMcClure
On Instagram: https://www.instagram.com/jennifer_mcclure/
On Facebook: http://www.facebook.com/JenniferMcClureSpeaker