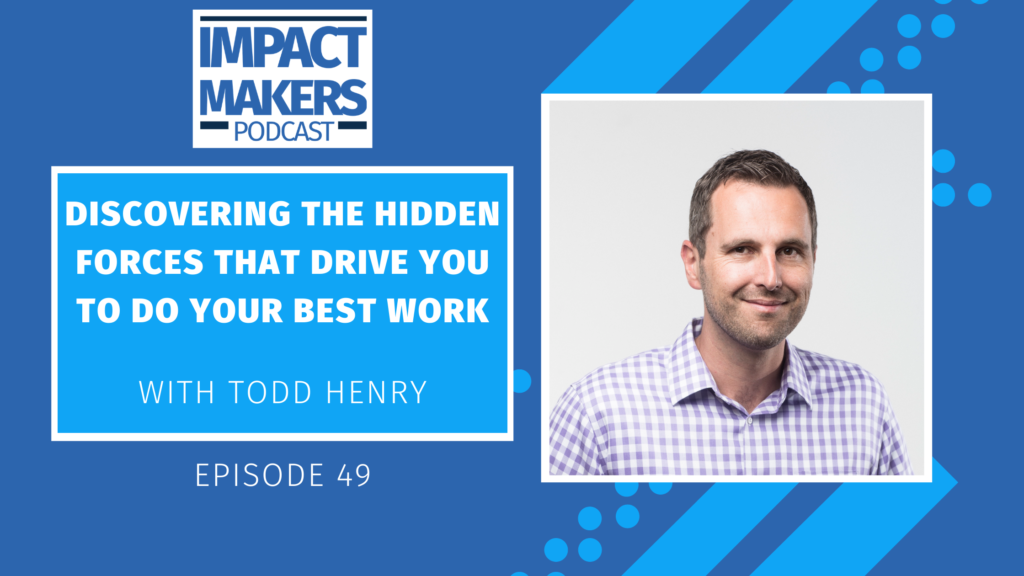 On Episode 49 of the Impact Makers Podcast, I'm speaking with someone that I admire and respect, and whom I've learned a great deal from over the past 10 years through his podcast, his books, and also by sometimes sharing stages with him speaking at conferences and events around the world.
Todd Henry positions himself as an "arms dealer for the creative revolution", and he teaches leaders and organizations how to establish practices that lead to everyday brilliance.
He's the author of five books (The Accidental Creative, Die Empty, Louder Than Words, Herding Tigers, and the latest – The Motivation Code), and he speaks and consults across dozens of industries on creativity, leadership, and passion for work.
Todd is also the host of The Accidental Creative podcast, where he offers weekly tips for how to stay prolific, brilliant, and healthy, and it's been downloaded over 10 million times.
When I saw that he was releasing his latest book – his fifth – in early October, I immediately bought a copy to keep my streak going of having read all of his books, and I also reached out to ask if he would join me on the podcast to share more about it with you. I was thrilled when he said yes right away, and I think you'll enjoy learning more about his books, as well as how you can do the best work of your life.
Topics Discussed In This Episode:​​
How starting a podcast in 2005 as a fun side project and creative outlet led unexpectedly to a book deal with a major publisher, and invitations to speak at events all over the world.
Why persistence is the key to success at work and in life.
What a 5-time published author who hates the writing process loves about writing books.
How to structure your life in a way that you're going to produce great work.
How to avoid the seven forces that disrupt your ability to produce work you can be proud of.
The five key elements needed when putting your work into the world to ensure it will resonate with people.
The leadership framework necessary to lead highly creative people, and to provide the stability and challenge they need to thrive.
How identifying your core motivators can help you understand what drives you, and also how you can mitigate any of their negative effects.
IMPACT MAKERS PODCAST – EPISODE 49
(Email subscribers – click HERE to listen to the podcast.)
Key Quotes From This Episode:
"Part of the key to life and to success is that success comes in layers, and it's just showing up over and over and over and over and over. Because you might show up today and get rejected, and then six months later you show up to the exact same person but the circumstances have changed, and you're the greatest thing in the history of the world. All of a sudden, now you're exactly what they're looking for." ~ Todd Henry
"For me, my love of the writing process has little to do with the actual writing, and more to do with the fact that it introduces the opportunity for me to put ideas out into the world in the way that they're accessible to people." ~ Todd Henry
"Every motivation is a gift. We should not feel guilty for the way that we're motivated." ~ Todd Henry
"Motivation is the base layer for everything else we do. If we understand what drives us, so much of our other behavior is explainable and we can mitigate so many of the negative effects of our actions." ~ Todd Henry
People & Resources Mentioned In This episode:
The Accidental Creative podcast
The Motivation Code / The Motivation Code Assessment
The Motivation Code: Discover the Hidden Forces That Drive Your Best Work by Todd Henry, Rod Penner, Todd W. Hall, and Joshua Miller
Herding Tigers: Be the Leader That Creative People Need by Todd Henry
Louder than Words: Harness the Power of Your Authentic Voice by Todd Henry
Die Empty: Unleash Your Best Work Every Day by Todd Henry
The Accidental Creative: How to Be Brilliant at a Moment's Notice by Todd Henry
Connect with Jennifer:
Send her a message [https://jennifermcclure.net/contact/]
On LinkedIn: http://www.linkedin.com/in/jennifermcclure
On Twitter: https://twitter.com/JenniferMcClure
On Instagram: https://www.instagram.com/jennifer_mcclure/
On Facebook: http://www.facebook.com/JenniferMcClureSpeaker