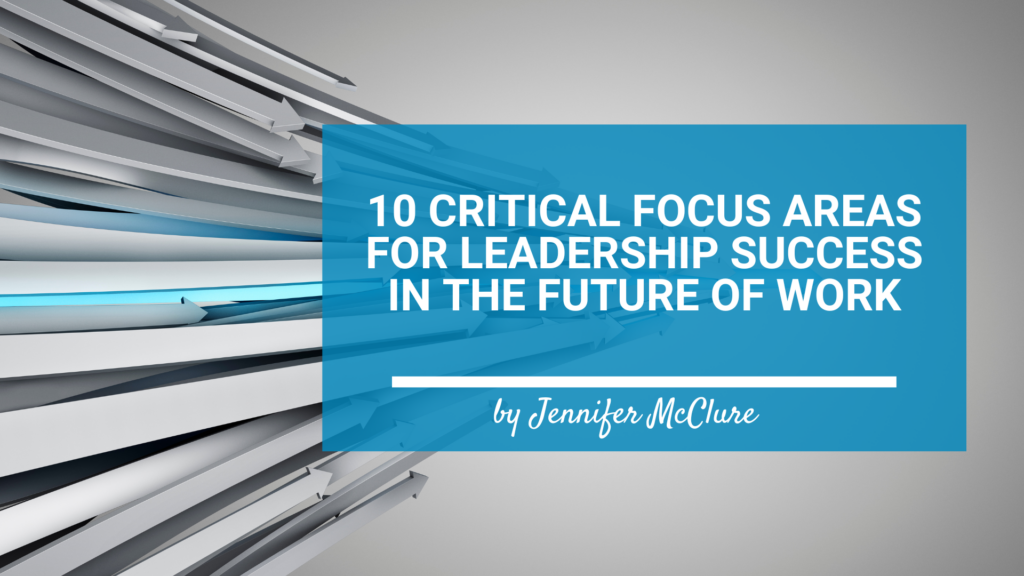 Unlocking the full potential of your team and paving the way for success in the future of work requires strategic focus and deliberate action. As a leader, it's crucial to prioritize key areas that will make a significant impact on your organization and its employees.
In the ever-changing world of work, where technology advancements, globalization, demographic shifts, and changing societal norms continue to reshape the way we live and work, where should you focus, in order to create the most impact in your organization, and in the lives of the people that you lead and serve?
10 Critical Focus Areas for Leadership Success in the Future of Work
1. Fight for flexibility for your team members
People want to effortlessly work how, where, when, and for whom they want.
40% of respondents in McKinsey's Great Attrition Great Attraction Survey published in September 2021, said that flexibility was the number one reason they accepted their current job.
According to Shiftboard's State of the Hourly Worker Report scheduling is the #1 complaint of hourly workers and the #1 cause of turnover.
85% of the hourly workers who participated in Shiftboard's survey reported that scheduling affects their overall job satisfaction.
2. Prioritize career growth and development opportunities for your people
According to Gloat Research Group's Great Resignation 2.0 Report, the number one reason given by employees who took a new job as to why they would leave again was a lack of career development opportunities.
The same survey revealed that 54% of the employees surveyed reported that their employers either don't take their future interests and aspirations into consideration enough, or not at all.
3. Help your people to connect with Meaning and Purpose in their work
It's critically important for leaders to connect people to something bigger than themselves and help them contribute.
According to Gallup research, a 10% improvement in employees' connection with the Mission or Purpose of their organization leads to an 8.1% decrease in turnover and a 4.4% increase in profitability.
I love this quote from Laszlo Bock – the current CEO & Co-Founder of Humu and former Google SVP of People Operations:
The single biggest thing you can do [as a leader] is to make the work feel meaningful.
What is an organization's Purpose? It's the reason for its existence, and the ultimate goal it seeks to achieve for customers.
Some good examples of organizational Purpose include:
Nourishing families so they can flourish and thrive – Kellogg
We fulfill dreams of personal freedom – Harley Davidson
We help people get jobs – Indeed.com
4. Commit to real change and action with Diversity, Equity, Inclusion, and Belonging efforts
How can you begin to make DEI&B efforts more meaningful and real in your organization?
Set meaningful goals
Track progress
Hold leaders accountable
Incentivize leaders
To learn more about how to think and act strategically when it comes to DEI&B, check out  Impact Makers podcast Episode #51 – The Value of Taking a Strategic Approach to Diversity, Equity, and Inclusion with Jennifer Ingram (she, her, hers) – Founder and CEO of Calibrated Lens.
5. Invest in your leaders – specifically front-line supervisors
The biggest gains businesses will witness in the future will come from hiring and training the right managers, who care for, develop, and maximize the strengths of every single employee.
Per Gallup's meta-analytics based upon 100 million employee interviews 70% of the variance between highest engaged teams and persistently disengaged teams is just the manager.
6. Focus on skills identification and development
I think this quote from Jonas Prising – Chairman & CEO of ManpowerGroup, sums up this critical focus area in future of work well:
Helping people to pre-skill, upskill and reskill for in-demand roles in this Skills Revolution remains the defining challenge of this decade.

It was important before the pandemic, and is even more critical now – to create a better workplace where everyone is able to unleash their full human potential and have a more equitable share of the prosperity.
To learn more about best practices related to internal mobility and career upskilling, check out Impact Makers podcast Episode #64: Creating Career Pathways to Unlock Opportunity for the Workforce of the Future with Matthew Daniel – Principal, Talent Strategy and Mobility at Guild Education.
7. SEE your people
What do I mean by "SEE" your people?  
Show Appreciation.
Give Recognition.
Value Differences.
According to the results of a SurveyMonkey / Bonusly Survey, 63% of employees who are regularly recognized were "very unlikely" to look for a job in the next 6 months, and 89% of employees who are rarely recognized are open to accepting a new job.
And according to McKinsey's Great Attrition Great Attraction Survey, the number one reason why people left a job without another one in hand was uncaring leaders.
In addition to helping your people to feel more valued, being a caring leader for your people actually makes good business sense.
8. Grow yourself
Your growth and development is your own responsibility, not that of your company, or your your boss. Take ownership of your personal development by:
Setting goals, tracking your progress, and holding yourself accountable.
Challenging yourself to learn aspects of business and leadership that are not within your current responsibilities.
As my friend Laurie Ruettimann says in her best-selling book Betting on You: How to Put Yourself First and (Finally) Take Control of Your Career:
If you're learning, you're growing, and if you're growing, you're thriving.
9. Develop your influence
As a leader, your ability to influence others is a critical factor in your career growth and success.
How can you develop your influence?
Invest in relationships.
Build trust.
Share your ideas.
My friend Neil Morrison – Group HR Director at Severn Trent Water, shared the following quote in a blog post years ago, which continues to resonate with me, because it's so true:
You don't get influence through control. You get influence through other people's positive experience of you. You get influence through people wanting you involved – not by telling them you have to be.
10. Embrace (and lead) disruption
Change is a constant, and will continue at a rapid pace in the future. As leaders, we need to stay curious, and seek out ways to lead change efforts, rather than being reactive, and being affected by changes in unknown ways.
For HR and People leaders in particular, change agility was identified as a key skill in the future of work by SHRM research.
You can learn more about what the future of work holds for HR and People Leaders in Impact Makers podcast Episode #63: Defining Return on Workforce Investment in the Future of Work with Alexander Alonso, PhD SHRM-SCP – Chief Knowledge Officer at SHRM.
—–
So there you have it!
My 10 suggestions for areas where I believe leaders who will create positive and meaningful impact in the future of work need to focus now. Hopefully, you're already actively making progress in several of these areas, and only need to add a few to your actions plans. Or, if you're just getting started, choose a couple of areas to focus on, and start taking action today.