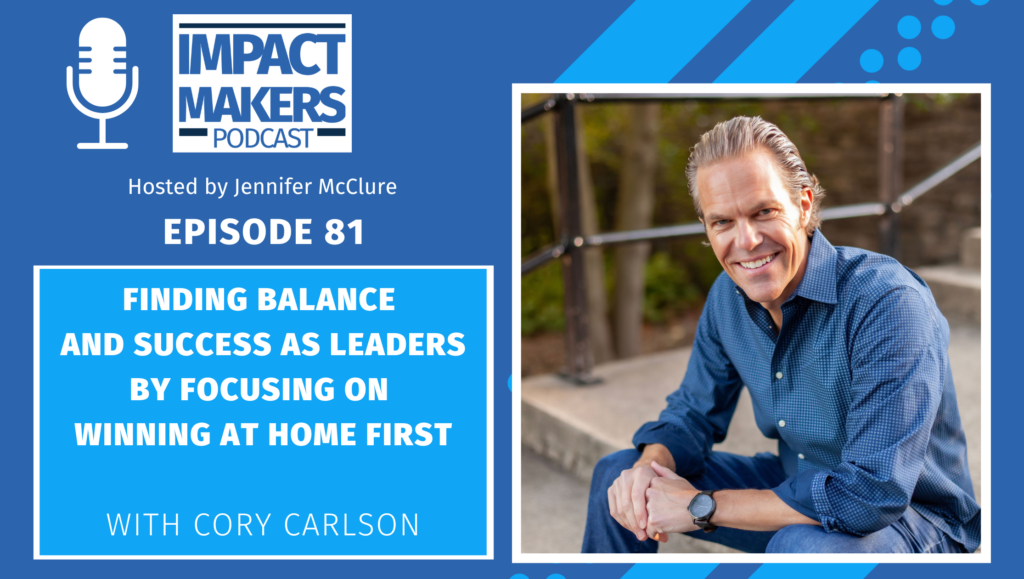 On this episode of the Impact Makers podcast, I'm chatting with Cory Carlson, an executive coach and speaker, who helps leaders win both at home and at work.
With over 20 years of corporate experience, including managing large teams and holding executive positions, Cory understands the challenges and pressures that many leaders face firsthand.
In our conversation, he shares his personal journey of self-discovery as a leader, from battling with imposter syndrome to finding a better way to lead. He also opens up about the pivotal moment in his career that led him to seek out an executive coach, and how that decision helped him to transform his life, while also becoming a better father, husband, and leader.
We chat about some of the key lessons that he learned along the way, and we discuss the importance of embracing coaching, focusing on what truly matters, and maintaining a healthy work-life balance.
Cory's insights and practical strategies are not only beneficial for leaders but for anyone seeking personal growth and fulfillment. Whether you're a seasoned executive or aspiring to make a meaningful impact, this episode is packed with valuable takeaways to inspire and empower you on your own career and life journey.
Topics Discussed In Today's Episode:
The biggest challenge facing leaders today in regards to prioritizing both their work life and home life.
How leaders can address the need to be constantly available to their teams, and "always on the clock", which can negatively impact their home life and relationships outside of work.
The life experiences that prompted Cory to write two business books focused on leaders – Win at Home First, and Rise and Go.
Why creating time and space to spend in solitude is important for improving self awareness and emotional balance.
The importance of shifting from a scarcity mindset to an abundant mindset, and simple steps that leaders can take to create a more positive mindset and enhance their overall well-being.
Where Cory believes leaders have the opportunity to create the greatest impact in the world today.
LISTEN TO IMPACT MAKERS PODCAST – EPISODE 81
Listen on Apple podcasts, Google podcasts or Spotify
Supporting Links and Resources:
Cory Carlson – Website, LinkedIn, Instagram
Win at Home First: An Inspirational Guide to Work-Life Balance by Cory M. Carlson
Rise and Go: How to Get Back Up with Courage and Move Forward with Confidence by Cory M. Carlson