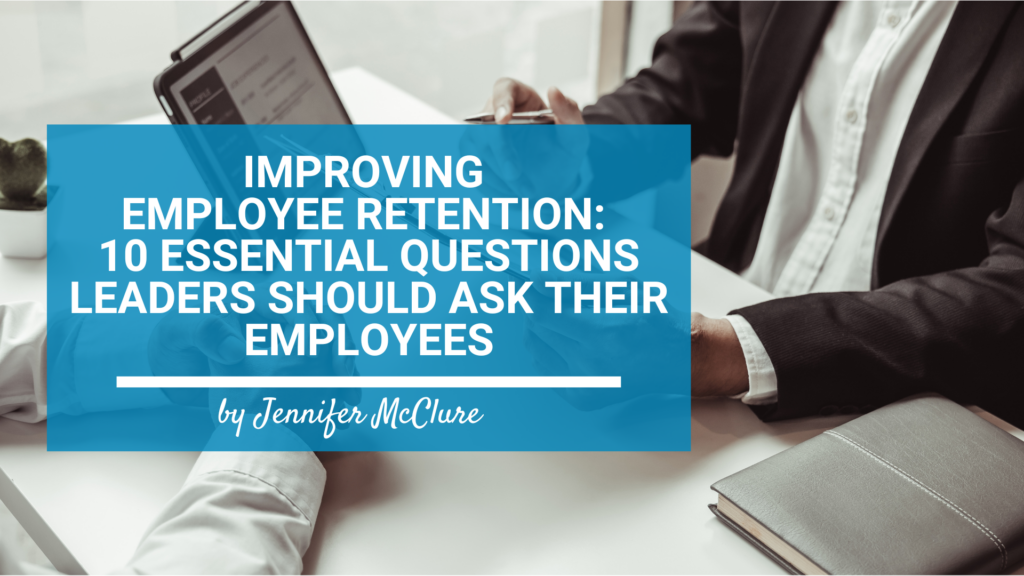 In general, employees leave their jobs because they want more career growth, flexibility, and/or appreciation and recognition.
You've probably also heard that people leave managers, not companies.
In fact, there are many reasons why an employee many choose to make a change depending upon their individual circumstances, but there are some common factors.
As a leader, how can you prevent your best employees from leaving?
Take the time to have conversations with your direct reports and team members to understand what's working, what's not working, and how you can help to set them up for success.
Whether you're doing performance evaluations, having end of year discussions, or talking about goal setting and goal planning for next year, I believe there are 10 crucial questions that leaders should be asking their employees to improve employee retention.
From identifying skills to develop, and areas needing support, to understanding preferred management styles, and exploring career growth opportunities, these questions provide valuable insights for creating a positive work environment that nurtures and retains top talent. By actively listening and acting upon the responses, leaders can establish stronger connections with their employees and foster a workplace culture that values individual growth and satisfaction.
10 Questions to Ask Employees to Improve Retention
Discover Skills to Focus on or Develop / Areas to Eliminate or Support
What are 3 aspects of your job that you feel you're best at, or enjoy the most?
What are 2 areas in your job where you could use more support or resources, or would prefer not to do?
Outside of work, what do you really enjoy doing? Do you have a hobby, or a passion project that you work on that gives you joy?
Learning and Development / Career Growth
Is there something that you would like to have an opportunity to learn or explore, that either isn't a part of your current job, or is something you'd like to try?
Are there skills that you would like to learn, or career opportunities that you would like to explore that you don't fee are available to you in your current role, or at this company?
Flexibility / Work Hours
Does the current schedule or work situation allow you to do your best work, while also enjoying your life away from work?
Understand How Someone Likes to Be Managed
How do you like to be recognized and appreciated? What is meaningful to you?
How often would you prefer to meet to discuss and share progress against your goals?
Support Their Progress and Ensure Success
What is one thing that I can do to set you up for success in 2023, that I'm not doing currently?
The Magic Question
If I gave you a magic wand, and you could change one thing about your current job, or about the company – what would you change?
Employee retention remains a top priority for effective leaders, and understanding the reasons behind an employee's decision to leave can help leaders to prevent valuable team members from looking for other opportunities to meet their goals and expectations.
Want to hear more on this topic, and understand the reasoning behind asking each of these questions?
Listen to the Impact Makers podcast episode 071 – 10 Questions You Should Be Asking to Prevent Your Best Employees from Leaving: