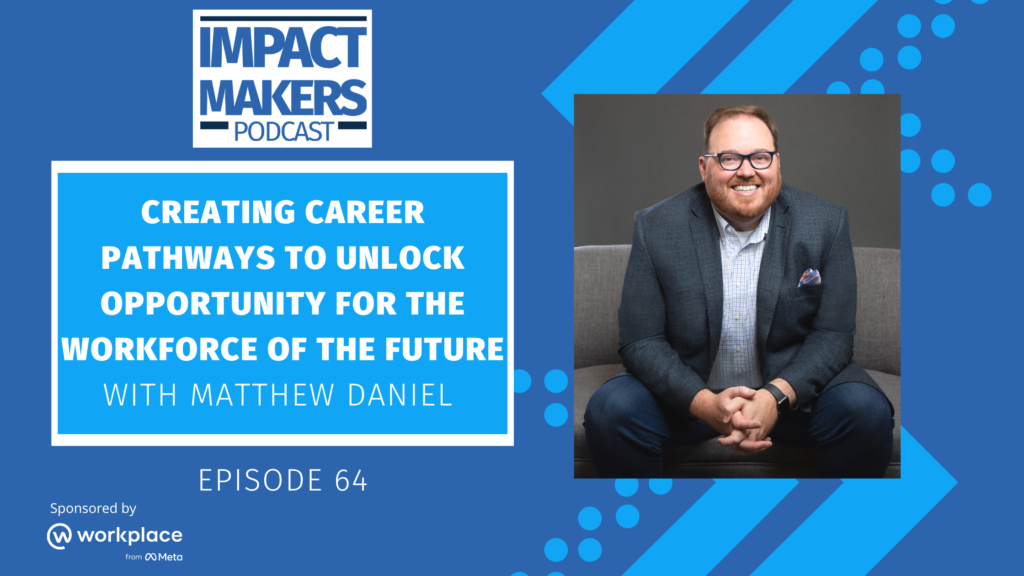 Are you retaining talent by developing and moving them into other opportunities that benefit both their career and the organization?
Data shows that the more we invest in developing and seeing those opportunities for other people to move around the organization, the greater the loyalty to the company, and the greater the retention.
In this episode, Matthew Daniel shares great insights into how leaders can create career pathways to unlock opportunities for their workforce. Matthew is the Principal Consultant of Talent Strategy and Mobility at Guild Education, a company that partners with forward-thinking organizations to transform education into strategic talent advantage, especially for their frontline.
The entirety of Matthew's career has been about investing in others, seeing them grow, and trying to match them up with opportunities so they can go big, and do bigger and better things.
Listen to our lively discussion and learn why investing in your workforce also makes good business sense.
Topics Discussed In This Episode:​​
Guild Education's new model for creating a win-win situation for both employers and employees when it comes to career growth.
How Walmart's Live Better U has contributed to an 87% increase in promotions for Black employees, and 71% increase in promotions for Hispanic employees versus those not enrolled in the program.
What leaders should be doing today to develop the talent that they'll need in the future.
Three things that employees truly want from their work and workplace.
How effective internal talent mobility programs and processes can positively impact loyalty, retention and financial metrics of a company.
Why not building a talent base in your organization that reflects the consumer population is a recipe for disaster.
IMPACT MAKERS PODCAST – EPISODE 64
Key Quotes From This Episode:
"Leaders make the decisions to invest in their own staff, to build the skills that they need, rather than just expecting to somehow go out on the market and buy those skills through recruiting."~ @Matthew Daniel
"It can be a win for the employees where they're developing economic mobility, new skills, getting themselves ready for the future and the employers benefit from their own internal talent pipeline." ~ @Matthew Daniel
"Among US workers who left a job in 2021, 63% say they left because there were no opportunities for advancement." ~ @Matthew Daniel
People & Resources Mentioned In This Episode:
How Rocket Central transformed an unused tuition benefit into a world-class career growth program
Walmart To Pay 100% of College Tuition and Books for Associates
Building from the Bottom Up – Harvard Business School
Matthew Daniel's Chief Learning Officer articles
Matthew Daniel's Talent Management articles
Show Sponsor:
This episode of the Impact Makers Podcast is sponsored by Workplace from Meta.
Everybody's talking about the metaverse these days, but Workplace from Meta is different – I mean, the clue's in the name, right?
Workplace is a business communication tool that uses features like instant messaging and video calls to help people share information. Think Facebook, but for your company.
It's part of Meta's vision for the future of work – a future in which your job isn't just something you do, but something you EXPERIENCE. A future in which we'll all feel more present, connected, and productive.
Start your journey into the future of work at workplace.com/future.
Connect with Jennifer:
Send her a message [https://jennifermcclure.net/contact/]
On LinkedIn: http://www.linkedin.com/in/jennifermcclure
On Twitter: https://twitter.com/JenniferMcClure
On Instagram: https://www.instagram.com/jennifer_mcclure/
On Facebook: http://www.facebook.com/JenniferMcClureSpeaker