This year, I'll be attending my 5th SHRM Annual Conference & Exposition June 16 – 19, 2013, which will be held in the beautiful windy city of Chicago.
It's the BIG show. Picture 10,000 – 15,000+ HR and industry professionals all gathered in one place to get their learn on, to network and to shop till they drop in the Expo Hall for free squeezy balls, pens and drawings for iPads – and maybe a new product or vendor while they're at it.
I find the conference, the people and the content incredibly valuable each year. But if it's such a great event, why do senior level professionals make up such a small percentage of attendees at the annual conference – or equivalent industry events?
Check out the attendee breakdown from the 2012 SHRM Annual Conference below. Only 12% of attendees were from the top of the profession. Go to a local SHRM chapter meeting and this group is even less likely to be in attendance.
I'm glad to see that HR professionals at all levels attend the conference and keep coming back year after year.
So why don't the senior level pros consider it a "must attend" event? What's missing for them?
I'd love to hear your feedback and thoughts in the Comments section.
Let's talk about how we can connect with the upper levels of HR in a meaningful way!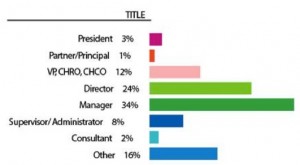 I'll be speaking at the 2013 SHRM Annual Conference this year for the second year in a row – twice! I consider a huge honor!
If you'll be there (register here), I'd love for you to join me!
MEGA SESSION: The Future of HR: Four Keys For Creating Competitive Advantage Through Innovative People Strategies (1.25 Strategic HRCI credits)
MEGA SESSION: Talent Shortages & Skills Gaps: Equip Your Organization For New Battlefronts In The War For Talent (1.25 General HRCI credits)
—–
Unbridled Talent LLC is a consulting and advisory firm providing services to clients in the areas of recruiting & human resources strategy, employment branding and leadership/career development. We offer keynotes, workshops and training that inspire and teach business leaders to be more effective in their careers and as leaders of their organization's most valuable resource – people. Contact us to schedule an event or to discuss our strategic consulting and advisory services.