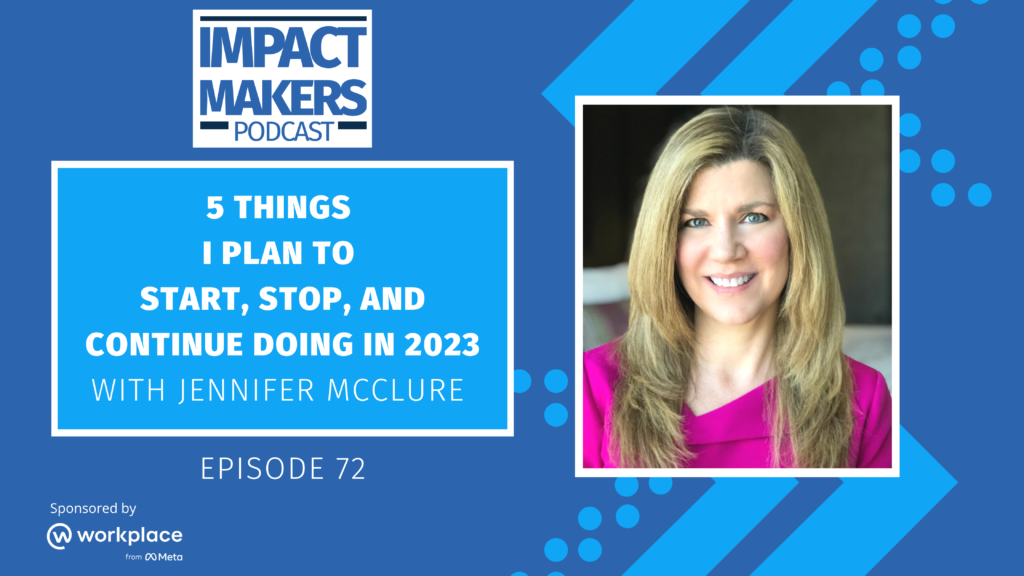 Start? Stop? Continue?
When I was in human resources, as part of review processes, I learned to look at things to start, stop, and continue rather than just talking about traditional goal setting.
With 2023 right around the corner, I thought I'd share five things I plan to start doing, five things I plan to stop doing, and five things I plan to continue doing next year.
Hopefully, this will encourage you to do the same as part of your goal-setting process as well.
Start
Goal setting and tracking
Daily planning/time blocking/using Trello
Prioritizing learning/professional development
Investing in my relationships
Scheduling time for content creation
Stop
Starting my morning with my phone
Allowing busy work to fill my day vs activities focused on achieving my goals
Not prioritizing my email list community
Putting off writing a book
Taking my friends and family for granted
Continue
Using Profit First in both of my businesses
Participating on the Defense Business Board
Listening to podcasts for professional development
Outsourcing what I'm not best at/working with a team
Podcasting ?
IMPACT MAKERS PODCAST – EPISODE 72
People & Resources Mentioned In This Episode:
Your Best Year Ever: A 5-Step Plan for Achieving Your Most Important Goals by Michael Hyatt
Profit First: Transform Your Business from a Cash-Eating Monster to a Money-Making Machine by Mike Michalowicz
Impact Makers Podcast Episode #70: My Favorite Podcasts Related to the Future of Work, Speaking, and Entrepreneurship
Emerald City Productions – Making Your Podcast Sound Great
Show Sponsor:
This episode of the Impact Makers Podcast is sponsored by Workplace from Meta.
Everybody's talking about the metaverse these days, but Workplace from Meta is different – I mean, the clue's in the name, right?
Workplace is a business communication tool that uses features like instant messaging and video calls to help people share information. Think Facebook, but for your company.
It's part of Meta's vision for the future of work – a future in which your job isn't just something you do, but something you EXPERIENCE. A future in which we'll all feel more present, connected, and productive.
Start your journey into the future of work at workplace.com/future.
Connect with Jennifer:
Send her a message [https://jennifermcclure.net/contact/]
On LinkedIn: http://www.linkedin.com/in/jennifermcclure
On Twitter: https://twitter.com/JenniferMcClure
On Instagram: https://www.instagram.com/jennifer_mcclure/
On Facebook: http://www.facebook.com/JenniferMcClureSpeaker