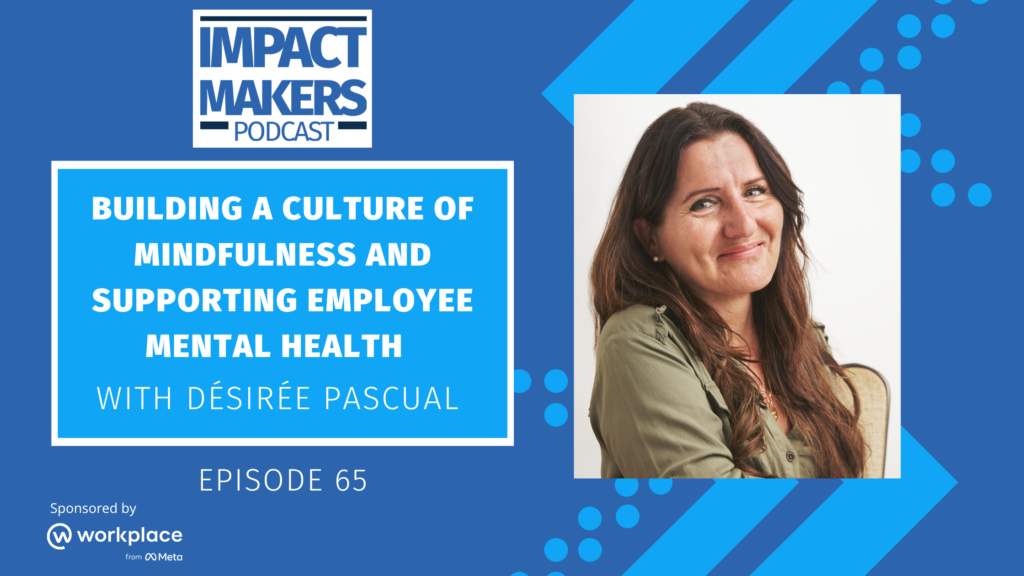 Whether the topic is the increased demand for flexible work, the Great Resignation, or something called Quiet Quitting, the common theme in all of these areas impacting the workplace today is a need to increase our focus on supporting employee well-being and mental health.
The question is "how"?
In this episode, I'm joined by Désirée Pascual, the Chief People Officer at Headspace Health, a digital mental health company. As a trained psychologist, she specializes in organizational and group dynamics focusing on communication and conflict resolution.
Informed by human-centered design principles and data-driven inquiry, Désirée is committed to curating joyful and resilient workplace cultures where employees are empowered to do their best work.
Désirée shares great insights and practical action steps we can take as leaders to support our own mental health, and that of our employees.
Topics Discussed In This Episode:
The importance of creating psychological safety in the workplace to allow people to feel comfortable bringing their whole selves to work.
How leaders can address and prevent burnout – for themselves, and also for their team members.
Steps we can all take to create a more mindful culture in our companies.
How diversity, equity, inclusion, and belonging efforts link to mental health in the workplace.
What leaders can do to destigmatize use of mental health benefits.
IMPACT MAKERS PODCAST – EPISODE 65
Key Quotes From This Episode:
"One of the things that we really have to focus on as leaders and as organizations is to create the psychological safety for people to bring as much of who they really are into the workplace." ~ @Désirée Pascual
"When we accomplish moving closer to that goal post of people feeling safe bringing their whole selves to work, the result will be deeper conversations, stronger relationships–not just among coworkers, but also as it relates how you serve your members or your clients as an organization." ~ @Désirée Pascual
"As leaders we are really called to model what healthy looks like, what safe looks like, and that includes being open about needing mental health support or mental health days off." ~ @Désirée Pascual
People & Resources Mentioned In This Episode:
Leadership Workshop Series from Headspace Health
Workforce Attitudes Toward Mental Health Annual Report from Headspace Health
Show Sponsor:
This episode of the Impact Makers Podcast is sponsored by Workplace from Meta.
Everybody's talking about the metaverse these days, but Workplace from Meta is different – I mean, the clue's in the name, right?
Workplace is a business communication tool that uses features like instant messaging and video calls to help people share information. Think Facebook, but for your company.
It's part of Meta's vision for the future of work – a future in which your job isn't just something you do, but something you EXPERIENCE. A future in which we'll all feel more present, connected, and productive.
Start your journey into the future of work at workplace.com/future.
Connect with Jennifer:
Send her a message [https://jennifermcclure.net/contact/]
On LinkedIn: http://www.linkedin.com/in/jennifermcclure
On Twitter: https://twitter.com/JenniferMcClure
On Instagram: https://www.instagram.com/jennifer_mcclure/
On Facebook: http://www.facebook.com/JenniferMcClureSpeaker