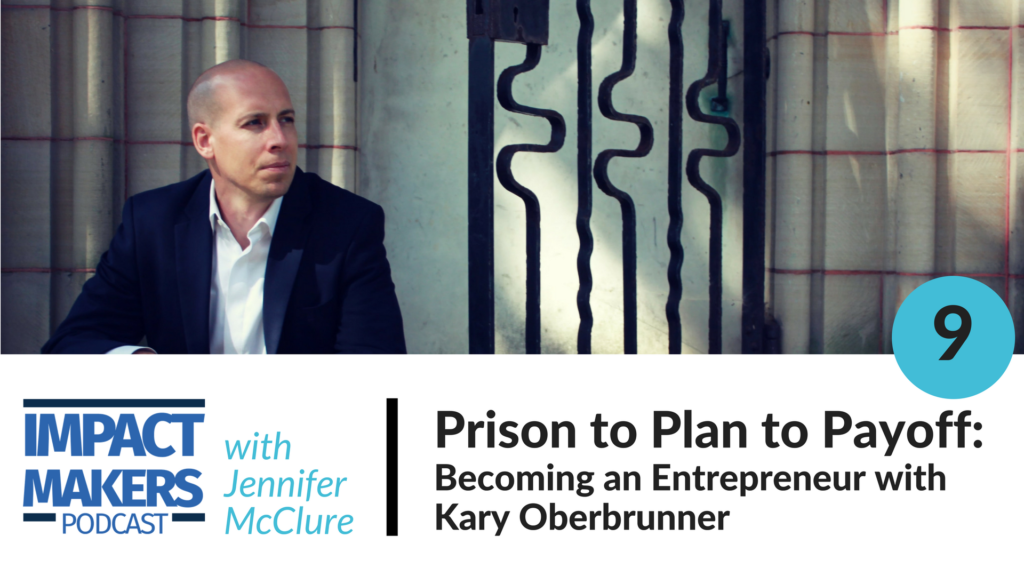 Does your day job feel like the first part of Shawshank Redemption? It did for Kary Oberbrunner. His day job was a prison, and it took some planning to get out, and the payoff for his patience and effort is a very successful publishing company. If that weren't enough, part of Kary's latest book was written in main character Andy Dufresne's actual cell from the movie. What Kary has to say about life and entrepreneurship will inspire you, and hopefully, ignite your soul.
Your pain is your platform. Kary had an early life filled with pain, and rather than honoring his voice, he used self-harm to deal with the pain and anger. But it was his heartbreaking childhood that has become his medium for making an impact on others and, as he calls it, igniting the souls of those he comes in contact with.
Self-injury isn't just physical. Kary believes that another way people do it is by having self-limiting beliefs. It's an emotional, and sometimes spiritual wound that many people don't realize they have. He shares the story of his daughter's teacher and how she reacted to it.
Do you know the definition of entrepreneur? Kary learned it when he realized that's exactly what he is: the bearer of risk. He shares the story of how he decided to leave a stable income and benefits and became an entrepreneur. But Kary did it the smart way.
One of the things Kary teaches is to use the Shawshank Redemption method for leaving your job to become an entrepreneur full time. Andy, the main character, didn't break out of jail in a year. It took him 19 years. Similarly, Kary suggests you spend time developing the character and discipline you need by keeping your entrepreneurship as a side hustle until you can do it right. You don't have to wait 19 years, though.
So what did Kary move to from ministry? He wrote his first book while still a pastor, but a call with one of his colleagues was a terribly RUDE awakening that he was taking too long. Kary shares the story of being called out, called a hypocrite, and how it changed his future.
For a long time, Kary couldn't get clients. He realized it's because his thoughts were centered on himself. So he began to 'show up filled up.' People noticed the difference immediately, and he shares exactly what he did to get his first coaching client.
Do you want to know what selling and marketing are at the core? Serving and storytelling, respectively. Kary explains what this means and how he uses it in his everyday business life. He also shares his tactics for getting people to REMEMBER his stories.
If you're fuzzy on what your VPS is, your Value Proposition Statement, then you need to hear Kary's explanation. It begins with the thing that people will pay you money for. There's a simple sentence you can fill out that will get you laser-focused on yours: I am _______ who helps _______ do or understand _______ so that _______. Before you fill it out, you need to hear how to make it work like a true VPS.
Kary has made a practice of writing a book and generating multiple revenue streams around it. When people starting noticing the trend, they came to him asking how he did it. He couldn't find anything for them so he decided to teach them himself. He tells the story of how he sold out a course before it was built and focused his efforts on a publishing company to help others.
If you're interested in writing a book and having help building a business around it, that's what Kary does. What's better, you keep the royalties and intellectual properties. He uses the method he used for his own 7 plus books, so it works.
All Things Kary Oberbrunner:
People Mentioned:
Jeff Brown – Read To Lead podcast
Books Mentioned (affiliate links):
Kary's Books:
Elixer Project – Everything Can Be Hacked, Even The Truth (fiction)
DAY JOB TO DREAM JOB – Practical Steps for Turning Your Passion into a Full-Time Gig
THE DEEPER PATH – Five Steps That Let Your Hurts Lead to Your Healing
YOUR SECRET NAME – Discovering Who God Created You to Be
THE FINE LINE – Re-envisioning the Gap between Christ and Culture
CALLED – Becoming Who You Were Born to Be
THE JOURNEY TOWARDS RELEVANCE – Simple Steps for Transforming Your World
Book published by Author Academy Elite:
Vlog Like a Boss: How to Kill It Online with Video Blogging by Amy Schmittauer-Landino
Give us a hand getting the word out:
Do you want to spend your personal and professional time making a lasting impact on others? Do you want to be the kind of leader people love? Subscribe today and we will bring you new ways to change the world every single week.