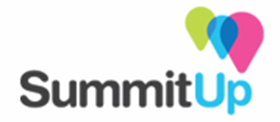 Next week, I'll be leading a Breakout Session at a Social Media Conference called SummitUp in Dayton, OH on Tuesday, October 20th. My topic will be "Using Social Media in HR and Recruiting" and I'm super excited about this opportunity! To learn more about what we'll be discussing in my session, you can listen to a brief podcast I did recently with one of the organizers – David Bowman – here.
Why am I so excited about this event? Because the agenda is packed with speakers who are some of the true Thought Leaders, Gurus, Experts, etc. (pick the term most palatable to you) in using social media from the Greater Cincinnati/Dayton/Columbus areas and beyond. I'm truly honored to be able to attend the Conference – let alone to be asked to contribute!
So without further ado, here's my personal Top 5 Reasons to attend SummitUp at Wright State University in Dayton, OH:
Top 5 Reasons to attend SummitUp:
Chris Brogan. Enough said. Chris will be delivering the closing Keynote and as an official CB Groupie, the opportunity to hear him speak in person is worth the price of admission!
All attendees will receive a copy of Chris Brogan's new book – Trust Agents: Using the Web to Build Influence, Improve Reputation and Earn Trust. (Free helpful stuff = Coolness.)
Kevin Dugan's opening Keynote. Kevin is widely recognized as one of the leading minds in the world of PR and always brings a perspective to social media that's wicked smart and user-friendly at the same time. (And he's a Cincinnati favorite!)
Mid-day Keynote speaker Bob Garfield. Who wouldn't want to hear from someone who's Bio states: "He isn't exactly a media whore, but he's extremely promiscuous"? Attendees also get a copy of Bob's 3rd book – The Chaos Scenario.
If you're in the Greater Cincinnati area – or within reasonable driving distance – this Conference is a steal at $139. (Heck – even if you have to fly here – that's money well spent!)
The remaining speakers throughout the day are an impressive group and they'll lead discussions covering a variety of aspects of using social media for business and professional development.
I'm looking forward to making some great connections at the Conference and learning about the future of social media. If you'll be there, be sure to say hello!
Want to join me? Get more details and information here.